Virtual Tour of the Nez Perce National Historic Trail using Google Earth
**The most robust way to interface with the Nez Perce Trail
 is in Google Earth...the version you download to your own computer.**
Download here: Google Earth
**UPDATE**
You can now follow the entire length of the Nez Perce National Historic Trail using Auto Tours 1 -8, from Wallowa, OR to the Bear Paw Battlefield near Chinook, MT.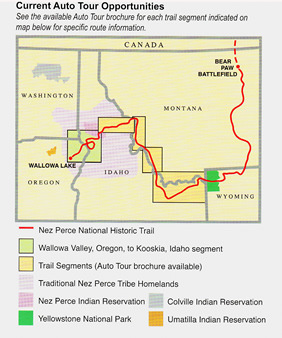 Click map above to enter tour.
Retrace the routes used by the Nez Perce Indians and U.S. military forces during the summer of 1877. This interactive map corresponds with the Nez Perce National Historic Trail Auto Tour Route. Clicking on the above map opens a custom map in Google Maps. Click on various icons to see images, more information, links, and directions. There are options to view the map in Google Earth, to download it, and to email.
Auto Tour guides, with maps and graphics have been created and are available as pamphlets, for all segments of the Nez Perce (Nee-Me-Poo) National Historic Trail (NPNHT). Auto Tour brochures are available at visitor centers along the NPNHT or as a download from the NPNHT website: www.fs.usda.gov/goto/npnht/pubs.
This virtual tour was created on Google Earth by Ron Hall for the Nez Perce Trail Foundation.
Ron Hall can be contacted at: rhall76@gmail.com or phone (509) 448 -2264.